Peach Galette with That Skinny Chick Can Bake #HungerStrike Day 3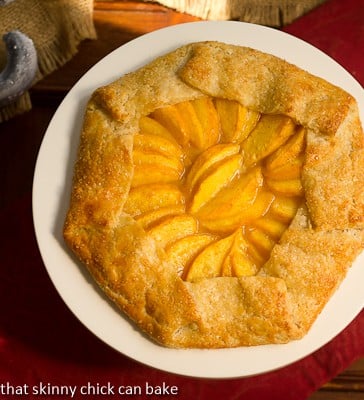 #HUNGERSTRIKE Day 3
Well friends, it's day 3 of the Hunger Strike! I'm not gonna lie, I am very hungry, maybe a little cranky and definitely emotional.
I'm sure we are all grown up enough to know that there is only so much we can do to help out the kids that don't even get free school meals. To be real, I still get angry at times and just don't understand why I can't do more? Why can't I have people just come over to get a meal from my house? And why can't I make sure that none of these kids ever feel unloved or unsafe? WHY? Why can't I just leave my door open and help them all??
This is one of those times that I question things that I know are just reality. I'm doing what I can to grow the project and reach more people for jobs and training, not just donations but it doesn't always feel like enough.
When I look at the huge burden of feeding a hungry world I look like a small child seeing a moving dinosaur exhibit for the first time. Wide-eyed amazement, a little fear and a dash of not-knowing-what-to-do.
And then there is the very beginning of this project. The original thought of getting together with my friends and my family to round up donations for a few families with absolutely no food in the house. That was the first thought of a solution that day back in 2010. Compared to now, this project has grown and it wasn't just because of me. My friends and my family have been working right along with me every step of the way. We've taken food, clothes, cleaning supplies and personal care supplies and delivered them to families. We've rounded up loads of toys and more food and warm clothes. My friends all over the world have offered help and support with the project by doing what needs to be done and encouraging me every single day.
I'm very proud to say that we have connected people with jobs and educational support in addition to the food and other supplies! That is some impressive growth when I put it into perspective.
I knew that right about now my faith in this project and my determination would be weak because I know myself very well. I can talk myself back into where I need to be emotionally by taking a second to look at everyone that has been by my side. So now as I look at Jenni's post, Kim's guest post and now this Peach Galette from Liz (which is totally making me even hungrier!) I can smile again. I look at the emails, texts, messages and voice mails from people that believe in No More Hungry Nights and they also believe in me too. That really puts me back into the right mindset. When I think of friends like Liz and the encouraging words it's the next best thing to a hug and it works like a charm.
I want you to meet my friend Liz, That Skinny Chick Can Bake. After you read this post and take a moment to tell us how beautiful this galette is in the comments below, you'll want to go visit Liz at her blog and decide which recipe you want to try first. You'll see that there is quite a bit of truth in her blog name! She can certainly bake! I would love to invite myself over to her kitchen to try some of this, but sadly it will have to wait until after the strike.
Peach Galette by Liz from That Skinny Chick Can Bake
I am honored to be guest posting for Dionne while she's focusing on the important issue of childhood hunger in this nation this week. I know she's been hard at work with this project and she gave me free reign to share a recipe of my choice with you all. Dionne, I'm rooting for you as you personally experience what  our underprivileged youth are fed each week at school. I am an avid fan of your mission, my friend.
With summer waning, I had to bake just one more peach dessert. Compared to a double crust pie, a galette is a snap. Rolling out a top crust, transferring it to  a filled pie, and cutting vents that don't look like a slasher got loose in the kitchen are steps that this baker still needs to master. So after making a peach pie and peach crisp and every other peach dessert I could think of, I remembered the lovely, rustic  peach galette. Only one round of dough needed…and if it's not perfect, no worries.


I made this the morning I was moving Nick back to college for his sophomore year. There were sad faces from the rest of the family when I packed up the ginormous chocolate chip cookies I had baked the day before for him and his roomies. I knew the hubby would be hitting the pantry for Oreos after dinner if I didn't have something special waiting on the counter for him when he arrived home from work. We both loved this galette (though, daughter Katie opted for ice cream with caramel sauce)…truly a winner when you consider the ease of preparation and the final, delectable outcome!
A couple tips:
Do not use really ripe peaches. The extra juices will make for a soggy crust.
If you own a pizza stone, place it in the oven and  then place the baking pan with the galette onto the stone to bake. This will ensure a well cooked bottom crust.
I don't like my galettes too rustic, so I will often use a 12 inch mixing bowl as a template, to cut excess dough off after rolling.
By rolling out the dough on a piece of parchment, you eliminate the step of removing it from the rolling surface to the baking pan. I just slide the galette topped parchment onto the pan.
Peach Galette by Liz Berg- That Skinny Chick Can Bake
Author:
Liz Berg has adapted this from Elise Bauer's Simply Recipes
Ingredients
Dough:
1¼ cup flour
1½ teaspoons sugar
¼ teaspoon salt
1 stick frozen butter, cut into small cubs
4-6 tablespoons ice water
Filling:
2 large peaches (not overly ripe), peeled, pits removed and sliced thin (about ¼ inch slices)
½ teaspoon vanilla
3 tablespoons sugar
1 tablespoon flour
⅛ teaspoon cinnamon
1 egg, beaten to brush over dough
Coarse sugar, to sprinkle over tart
Instructions
Combine flour, sugar and salt in food processor. Pulse to combine. Add frozen butter cubes and pulse till resembles corn meal. Add a tablespoon of water at a time, pulsing to mix. After 4 tablespoons are added, squeeze dough between your fingers. If it stays together, pour dough out onto a piece of plastic wrap, form a disk, wrap well and refrigerate for an hour. If the dough crumbles a lot, add up to 2 more tablespoons of water. Chill dough as directed.
Preheat oven to 425º. Place a pizza stone (if you own one) on middle rack of the oven.
Combine peach slices with vanilla, sugar, flour and cinnamon. Toss gently.
When dough is chilled, roll out to a 12 inch circle on a sheet of parchment paper. Arrange peach slices in the middle of the dough, leaving a 2 inch perimeter of just dough.
Fold up the sides of the dough without peaches towards the middle, folding over as needed.
Brush dough with beaten egg and sprinkle with sugar. Move parchment and tart onto a baking sheet.
Bake for 15-20 minutes, till crust is brown and peach juices start to bubble.
Cool and serve with vanilla ice cream.
Liz, you had me at "ease of preparation"! I have a very strong desire to cook, bake and freeze peaches so naturally I'm considering a trip to Eastern Washington for crates of peaches. Hopefully I'll remember not to use peaches that are too ripe! I'm going to try this recipe and love every morsel of juicy peach, crumbly crust and melty ice cream!  Don't forget to visit
Liz
over at
That Skinny Chick Can Bake
and let her know that you are a fellow Hunger Strike supporter!
I hope you enjoyed meeting Liz and hearing a little bit more about the Hunger Strike. I really do appreciate you stopping by to support our efforts!